Cronos is a new chain whose TVL reached $ 1.5 billion on Dec. 13, just a month ago since the launch of the mainnet beta on November 8th.
Cronos is no new crypto project – it's Crypto.com's solution for providing decentralized applications to its 10 million users and beyond, significantly increasing the DeFi and DApp ecosystem.
Built on the Cosmos SDK, developers will be able to migrate their DApps and smart contracts from chains compatible with Ethereum and EVM to Cronos faster and cheaper than before.
Cronos data
Starting at $ 4.8 million, Cronos 'TVL recorded a growth of 3125% to a peak of $ 1.5 billion in 35 days.

The price of the Crypto.com CRO token had a crazy rise in November to around $ 0.95, mostly due to aggressive advertising, before falling to $ 0.52 on December 18th.

The main category for projects on Cronos is DEX and Yield, but incentive plans, such as the CRO EVM fund, aim to attract a greater variety of projects.

TVL is dominated by VVS Finance, DEX, and CronaSwap, also DEX. According to Footprint Flash, TVL VVS Finance reached the highest level of all time on December 13 with TVL of $ 1.12 billion.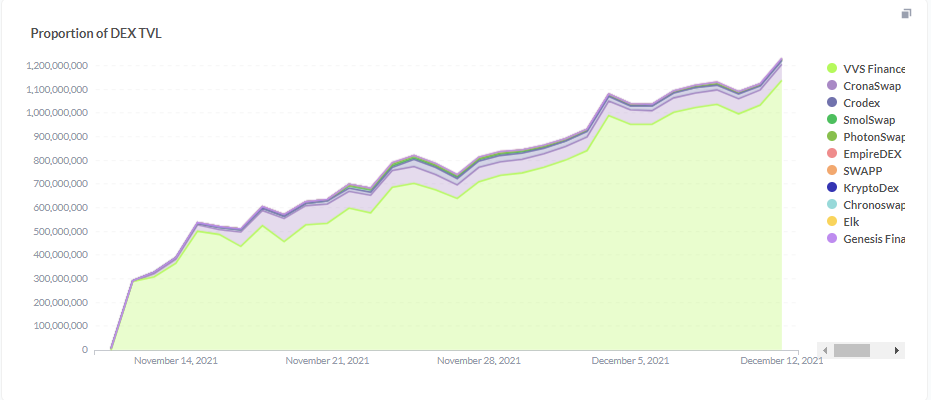 What spurred Cronos 'growth?
Cronos has received $ 100 million from the Particle B Accelerator Ecosystem Allocation Program, establishing the CRO EVM Fund to help developers and partners.
Cronos has also announced a $ 500,000 prize pool for the Cronos Hackathon, which aims to encourage developers to submit projects and ideas at an early stage to the Cronos ecosystem in the DeFi, NFT, GameFi, Web3 and metaverse areas.
Ambitious brand promotion
Crypto.com did not skimp on the promotion, embarking on an aggressive brand advertising strategy. In June, Formula 1 announced Crypto.com as a longtime partner. In October, Crypto.com launched a global brand campaign supported by several recent sponsorship announcements. In November, the Staples Center became known as the Crypto.com Arena.
Ecosystem suitable for developers
EVM compatibility: Built on Ethermint, Cronos supports fast launch of DApp applications and smart contracts from EVM-compatible chains.
Scalability: Cronos can process more transactions than Ethereum, making it faster, cheaper and easier to use.
Cronos also has a large team of thousands of staff and a well-established ecosystem.
Abstract
Crypto.com has created a platform for cryptocurrencies in one place. It has everything a crypto novice or native would want on a platform. Prompt trade and derivatives, centralized and decentralized financing, NFT, point-of-sale solutions and investment incentives are available.
As a result, Cronos is also on an uptrend, concluding $ 1.29 billion in TVL within a month, according to Footprint Analytics.
However, Cronos not only succeeds in recognizing names, but also offers an ecosystem and incentives that are very effective in attracting developers.
Source of data: Cronos dashboard
This report was brought to you by Footprint Analytics.
What is Footprint
Footprint Analytics is a comprehensive analysis platform for blockchain data visualization and insight detection. It cleans and integrates data in the chain so users of any level of experience can quickly begin researching tokens, projects, and protocols. With over a thousand dashboard templates and a drag-and-drop interface, anyone can create their own custom charts in minutes. Discover blockchain data and invest smarter with Footprint.
Published in: Analysis, DeFi
CryptoSlate newsletter
It contains a summary of the most important daily stories in the world of cryptocurrencies, DeFi, NFT and more.
Take it
edge

in the cryptocurrency market

Access multiple crypto insights and contexts in each article as a paid member CryptoSlate Edge.

Chain analysis

Price snapshots

More context

Join now for $ 19 a month Explore all the benefits